A problem has been observed when launching Microsoft Office products on satellite terminals.
Please check the following links for solutions to the problems that have occurred.
Office product does not start / A dialog box appears and "Error code 80090016" is displayed.
Solution
Open [Start] – [Settings] – [Accounts] – [Access to work or school].
Click [Disconnect] when the connected accounts are displayed.
Two confirmation dialogs will appear in succession. Click [Yes] on the first dialog and [Disconnect] on the second dialog.
When asked to restart, do so.
After completing the above, start the Microsoft Office product again and enter your @u email address and password when the dialog box appears.
This trouble may also occur when you use a satellite device with an account that you signed in to without following the settings below when signing in at the time of Office product startup on your PC.
This procedure is different from the setting when using Office products on a satellite device. Please be careful.
The following is a reference to an image posted on the A.C.C.C. Web.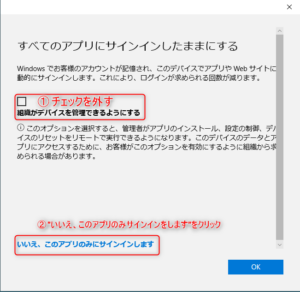 If the above does not resolve the issue, please try this as well.
When starting up Office products, a screen asking for a code number for multi-factor authentication appears even though I do not remember setting up multi-factor authentication, and you cannot proceed.
Solution
You need to initialize multifactor authentication with administrator privileges.
Please send an e-mail to the address listed under "Other General" in the "Inquiries" section, or contact the Academic Center for Computing and Media Studies.
The screen goes blank at the authentication operation and does not proceed.
When launching Microsoft Office applications on Windows Remote Desktop or Satellite Terminal of The Zengaku Computer System, the screen may go blank at the authentication process and you may not be able to proceed. In some cases, you may be asked to perform the same authentication operation several times.
Solution
You can improve the situation by disabling the multi-factor authentication setting at the following site.
Academic Computing Communications Center,University of Tsukuba
Cloud mail service authentication setting system (Microsoft 365)
https://m365setting.u.tsukuba.ac.jp/
Even if the authentication appears to be disabled on the screen, the authentication behavior may be improved by enabling it once and then disabling it again.
Alternatively, the error no longer occurs when the multi-factor authentication settings are completed to the end.
To reproduce the problem
The problem was reproduced when Office was started with the multi-factor authentication setting halfway completed.
If multi-factor authentication is enabled and the associated authentication application or phone settings are not completed, the authentication screen of the Office app version will go blank or an error message will appear.
Solution #3 added on 7/28
A new solution has been found and added to the FAQ. "Change account settings" in Windows.
Please see below for details.
Microsoft Product Authentication Failures on Terminals and Remote Access Service Solution #3
If the problem persists
If the above does not solve the problem, please also try the solution #2 in the FAQ below.
Microsoft Product Authentication Failures on Terminals and Remote Access Service